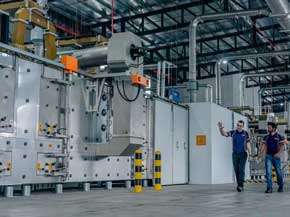 Weir Minerals, the sole producer of Linatex rubber products, has expanded its rubber manufacturing facility in Batu Caves near Kuala Lumpur, Malaysia. The site, which sits on 18 acres, has been expanded to include a new Continuous Rubber Process (CRP2) facility, a new Banbury mixer to manufacture masticated dry rubber and additional rubber presses to support the growth within this area of the business. Production capacity has been doubled with faster delivery times of more rubber compounds, it adds.
The modern manufacturing facility features equipment that produces Linatex rubber products, the world's leading rubber used to protect equipment in mining, minerals processing and industrial applications for the global Weir Minerals network. The GBP13 million investment enhances Weir Minerals' position as a global supplier, enabling the company to meet the increasing demand for premium rubber products and support its worldwide customer base.
Linatex is a vulcanised natural gum rubber, which is produced through a unique liquid-phase proprietary process. Manufactured from a renewable resource, the final product is 95% natural rubber made from the highest-quality latex, says Weir.
"Our site manufactures Linatex rubber sheet and moulded rubber products for process equipment used in mining and industrial applications. This expansion will allow us to service the growing demand in the market – not just now but for years to come. The investment in the CRP2 allows us to increase the production capacity for the high wear and abrasion resistant Linatex rubber sheet. The Rubber Mixing Process expansion, on the other hand, is an upstream vertical integration of the supply chain in which masticated dry rubber compounds such as R55 are manufactured and distributed worldwide from the facility here at Weir Minerals Malaysia," added Stephen Frendt, Managing Director, Weir Minerals Malaysia.