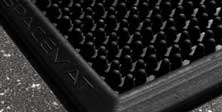 In conjunction with the Graphene Engineering Innovation Centre's (GEIC) Bridging the Gap programme at The University of Manchester, a local company has developed a flooring product that uses graphene to improve the properties and performance of recycled tyre rubber. The SpaceMat product, made from 80% waste tyre material and 20% graphene-enhanced natural rubber, has comparative compressive strength and durability of the recycled material.
SpaceMat is attributed to the genius of Dr. Vivek Koncherry of Space Blue Ltd. – the company is now developing a series of sustainable and circular economy products, including traffic cones and anti-viral doormats, in the hopes of reducing wastage from vehicle tyres using graphene.
"Our Bridging the Gap programme specifically targets Greater Manchester-based SMEs (small and medium-sized enterprises) and has been a great opportunity to support local innovation," said James Baker, CEO Graphene@Manchester. "It's really exciting to see this new company entering into the market, in particular with its focus on supporting environmental sustainability and a good re-use of scrap tyres, which otherwise could cause significant pollution and waste product."
Business responsibilities for the GEIC and the National Graphene Institute at The University is included under Graphene@Manchester; innovation around sustainability is one of the criteria governing their research activities and is vital in securing funding for the Bridging the Gap programme.
Bridging the Gap aims to help SMEs like Dr. Koncherry's make the transition from original idea to market-ready product, avoiding the so-called "valley of death," where many potential innovations founder due to lack of funds and/or industrial know-how.