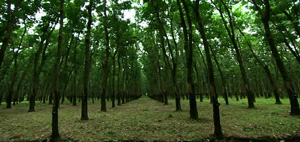 According to the Rubber Authority of Thailand (RAOT), Thailand, a major global rubber producer, is expecting to produce 4.9 million tonnes of natural rubber in 2022, up 1.82% from a year earlier. As per Athiwee Dangkanit, Director of Rubber Economy Department Rubber Authority of Thailand, output is estimated to be about 1.186 million tonnes in the first quarter of 2022, down 6.35% from the same period a year ago. In March, 0.39 million tonnes and 0.14 million tonnes are anticipated to be produced, respectively, as a result of the onset of the closing season.
Thailand produced close to 4.8 million tonnes of natural rubber in 2021, with nearly 4.1 million tonnes exported.
Growing demand for rubber in the global automobile market and medical gloves would boost Thai rubber exports, while shortages in semiconductor and container as well as high transportation costs, and slow clearances may pose challenges to the supply chain.
Lower rubber inventories in Qingdao, a key gateway for rubber imports in eastern China, allowed for more Thai rubber to be exported, she added. Due to delayed supplies and high transportation costs, inventories there dropped considerably in 2021.