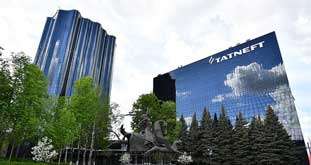 Russian petchem giant PJSC Tatneft says it has sold the tyre business of Tatneft Group, which it has owned for 20 years, to AO Tatneftekhiminvest-holding, which is not a member of Tatneft Group, due to the current situation. Terms were not disclosed
The transaction covers Tatneft's shareholding in the management company Tatneft-Neftekhim, in Nizhnekamsk All-Steel Tyre Plant and LLC TD Kama, as well as the shares in PJSC Nizhnekamskshina, JSC Nizhnekamsk Mechanical Plant and JSC Yarpolimermash-Tatneft.
Considering significant changes in the economic environment, including those caused by geopolitical processes, the sale of the tyre business would allow Tatneft Group to focus on its key strategic projects, it adds.
The cooperation of Tatneft with the tyre business companies in Russia, including with respect to the supply of feedstock, will continue on a commercial basis taking into consideration any commitments assumed by the company previously.
The transaction to sell the tyre business does not lead to any changes in personnel, decrease of social or any other obligations with respect to the tyre business' employees, it also added.
Upon signing of the agreement to sell the tyre business, the operational and management control over the companies covered by the transaction is transferred to AO Tatneftekhiminvest-holding, and Tatneft representatives holding positions in the management bodies of such companies are stepping down immediately.
Tatneft is a Russian vertically integrated oil and gas company with headquarters in the city of Almetyevsk, Republic of Tatarstan, Russian Federation. It is the fifth largest oil company in Russia and the eighth largest listed company in Russia by market capitalisation.