Silicones, owing to their unique qualities, enhance the efficiency of advanced medical technologies, says Angelica Buan in this article.
Today's fast-paced lifestyle predisposes populations to a myriad of health conditions that often go unchecked until it's too late. Debilitating conditions can have a massive impact on a patient's quality of life. But with today's advances in medical technologies, aided by suitable materials such as silicone, getting back the quality of life at post-treatment is already possible.
Medical grade silicones demonstrate desired properties such as biocompatibility, flexibility, sterilisability, tensile strength, thermal stability, and conductivity, among other factors that make them suited for implantable and non-implantable medical devices. For this reason, the medical grade silicone market is projected to fetch over US$1.7 billion by 2025, growing at a CAGR of 5.9% from 2020, according to a report from IndustryArc.
Similarly, silicones also headlined in various new technologies for medical applications to enhance the effectiveness in patient care outcomes.
New offerings for implants
Implantable medical devices such as prosthetics, dental equipment, stents and others, which account for a significant share in the medical silicones market, are projected to fetch a CAGR of 7.3% by 2026 or nearly US$154 billion from 2019, as cited by a report from Acumen Research and Consulting. It adds that the demand for implants will be rising in proportion to the prevalence of chronic conditions such as cardiac and bone disorders.
Companies that are continuously developing advanced implantable devices materials are also contributing to this billion-dollar growth.
Norwegian silicone supplier Elkem has recently introduced the Silbione Biomedical HCRA M500 series, a new heat cured rubber (HCR) product line that features high tear strength for demanding implant applications and fast, easy processing for improved productivity.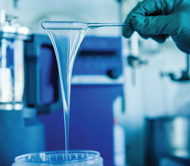 Elkem, which is acquiring Chinese silicone elastomer & resins material manufacturer Polysil, furthers that the new silicone series is designed
for applications implanted in the body longer than 30 days; and is ideal for extruding multi-lumen, co-extruded, braided, pump and thin wall tubing. End product examples may include ports, catheters, wound drains, stents, and shunts for a broad range of implantable medical intervention solutions.
Trelleborg, a Swedish specialist in engineered polymer solutions, has developed a range of speciality tubing and hose, which include multilumen, flexible, kink-resistant and silicone tubing with a plastic core for minimally invasive instruments, catheters and probes.
The medical silicone tubes are designed for long-term implants, Trelleborg stated. Due to the biocompatibility and physical resistance, the silicone tubes play an important role in medical applications, both as conduits to transport liquid and as insulators for cables and sensors. The products must meet highprecision control and process stability demands, and also be implantable for up to several years. Additionally, these long-term implantable silicone products are processed in cleanroom environments.
Tube with a twist
Freudenberg Medical, a global developer and manufacturer of medical devices, components, and minimally invasive solutions, has developed a multilumen silicone tubing called HelixTwist, which was designed to prevent kinks or blocked lumens by providing an equal balance of stress across the inner and outer lumens as the tube bends.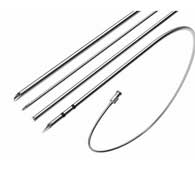 This technology offers a broad range in the degree of twist required for various medical device applications such as pacemakers, breathing tubes, and other medical applications, which require navigation through tortuous pathways within the human body.
Freudenberg Medical, which has developed a proprietary conductive silicone compound used for both smart therapeutic devices that deliver electrical currents and for ESD shielding of sensitive electronics, also recently introduced other next generation product solutions. Targeted at medical device companies looking to accelerate time to market, these include the Composer Epic and Composer Toccata Catheter Handle Platforms and the HyperSeal Mini as an addition to its the hemostasis valve range.
Meanwhile, Freudenberg Medical's technology called Helix iMC, used to continuously measure the inner geometry of silicone tubes, is said to significantly increase product quality for high precision applications, such as pacemaker lead insulation, and dramatically cuts down on material usage and process time.