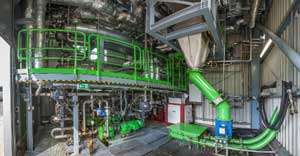 End-of-life-tyres (ELT) recycler Pyrum Innovations says it has established the first joint venture to build and operate a pyrolysis plant in Bavaria.
Under the company name Revalit GmbH, a recycling plant with a capacity of 20,000 tonnes of used tyres is to be operated in the port of Straubing near the Danube from 2024. The planned location is characterised by connections to the road network and also offers the possibility of transporting the goods to and from the site by rail and ship. Straubing thus represents an ideal location for the implementation of the environmentally oriented business approach.
Besides Pyrum, the shareholders of Revalit will be the Munich-based companies MCapital GmbH, Textor GmbH and Auer Holding GmbH, each with 25%. The contract for the start of the development activities and the start of the work for the required approval documents was concluded today. Preliminary discussions with the authorities have already taken place. The signing of a reservation agreement with the landowner will take place immediately after the entry of the company in the commercial register. Initial financing discussions with banks are currently underway.
Pascal Klein, CEO of Pyrum Innovations AG: "We are very pleased about the realisation of our first joint venture and the future cooperation with our new partners. With our planned pyrolysis plant in Bavaria, we will reach an important milestone on the way to the commercial rollout of our pyrolysis technology."
Jens Weinberger, Managing Director of MCapital GmbH: "We are proud to have found an innovative partner in pyrolysis technology in Pyrum Innovations AG, with whom we are jointly building our first plant in Bavaria."