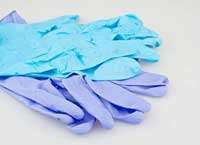 Covid-19 has had a positive impact on disposable gloves, including latex, nitrile, vinyl, neoprene, and poly gloves. According to a recent Daedal Research research titled "Global Disposable Gloves Market: Size & Forecast with Impact Analysis of Covid-19 – 2021-2025," online sales are driving the growth of the gloves market.
The global disposable gloves market grew significantly between 2017 and 2020, with a dramatic surge in 2020 due to the development of the Covid-19. Furthermore, forecasts show that the market will skyrocket over the next four years, from 2021 to 2025. The disposable gloves market is expected to grow due to the rising prevalence of chronic diseases, increased preventive measures against emerging disease outbreak, rising healthcare spending, favorable government and non-government organization initiatives, as well as widespread usage of gloves in the non-healthcare sector, and other factors.
But how does this affect the glove market given that Covid-related protocols are being relaxed in several countries? According to the ANRPC's Rubber Market Intelligence Report Volume 2, No 19 (October 1-15, 2021), eliminating Covid-related mobility restrictions in major producing countries could help enhance labor availability and agricultural activities. It was suggested, however, that progress made in immunization campaigns across countries could have a detrimental effect on demand for rubber gloves and glove pricing. This may have an impact on latex prices.
The recent expansion of nitrile production in many nations, particularly in China, may have an impact on latex demand from the glove manufacturing business. The RSS market is often influenced by developments in the latex industry. However, a number of positive elements can aid the market in absorbing the negative effects of the aforementioned concerns.
The peak season for global NR supply is from October to December. Apart from the seasonal component, supply could benefit from the recent rise in NR prices, which may entice some farmers to use a variety of short-term methods to boost yields from existing trees, ANRPC stated.