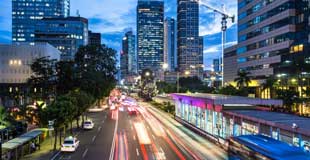 French tyre maker Michelin says that it has acquired US-based RoadBotics Inc., a start-up that specialises in the analysis of road infrastructure images it captures with smartphones. Terms were not disclosed.
Michelin says the acquisition of RoadBotics will enable it to consolidate its offer in data intelligence. "With a more accurate understanding of driving behaviours thanks to RoadBotics's imaging technology, the group will be able to complement its expertise and improve the value proposition to its clients, who manage road infrastructures. By combining the expertise of RoadBotics and Michelin DDi (Driving Data to Intelligence) in driving data analysis, Michelin plans to accelerate the development of the Michelin DDi "Safer Roads" solution in North America, and eventually in Europe. This acquisition is a continuation of the partnership around mobility data, established last year with Arity," said Lorraine Frega, Executive Vice-President at Michelin. Arity is a mobility and data analytics company founded by The Allstate Corporation to develop data-powered solutions for transportation departments and cities to improve road safety across the US.
RoadBotics' computer vision technology transforms visual data from road infrastructures collected with cameras, mainly with smartphones, into actionable data to enable decision-making by road infrastructure managers. It allows them, for example, to detect at-risk areas, to identify and prioritise maintenance to be carried out on their networks.
Based in Pittsburgh, RoadBotics was founded in 2016 by CEO Benjamin Schmidt, Chief Scientist Christoph Mertz, Courtney Ehrlichman and former CEO Mark DeSantis as a spinout from Carnegie Mellon University's Robotics Institute. It has raised US$11.4 million in venture capital to date and employs an estimated 35 workers, according to the company's profile.
Since its founding, RoadBotics says that it has enabled over 250 governments across 14 countries to better assess and manage their road networks via its AgileMapper and RoadWay tech, the company's project inventory and advanced AI mapping platforms, respectively.
The future version of DDi as a result of the combining technology will be made available first in North America before being rolled out in Europe, Michelin said.