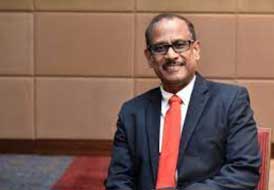 With Malaysia, the largest producer of gloves in the world, set to open its borders on 1 April, the Malaysian Rubber Glove Manufacturers Association (MARGMA) has welcomed the government's move to transition to the endemic stage of the two-year pandemic as it bodes well for the sector.
MARGMA President Dr Supramaniam Shanmugan has said that the government has announced that quarantine centres for foreign workers are now open for booking slots, saying this bodes well for the rubber glove industry as the country is on the road to economic recovery, as it ends the freeze on foreign workers.
"We are supportive of the government's initiative to open up our borders and to encourage businesses to function as before. MARGMA reiterates that transparency on actual recruitment fees from source countries will be key to facilitate a smooth recruitment process," added Supramaniam.
Once the foreign worker recruitment process is in place, he said, industry players can plan ahead to enhance factory operations and focus on capacity expansion.
"This would mean more jobs will be created for both local and foreign workers. We are hopeful that the relevant ministries would come together to ensure adequate workers' supply especially to essential items' manufacturers.
"In fact, it is really important for Malaysia to maintain its global leadership in the production of these medical examination and surgical gloves and hence, we hope that in recognition of essential industries, we will be given priority in the engagement of the migrant workers," Supramaniam noted.
Overall, the rubber glove industry hires about only 1.7% of total foreign workers in Malaysia, according to MARGMA. It added that the industry is "proud to be able to still manage capacity expansion and production of gloves all these while through technology and automation".
As the industry continues to increase efficiency and invest in Industrial Revolution 4.0, worker recruitment is inevitable to facilitate industry growth and meet global demand, which is expected to exceed 460 billion pieces of gloves in 2022.
"MARGMA is also proud to announce that all our members have taken a very solid initiative to overcome the allegations of forced labour and that we will keep our own house in order to withstand any scrutiny by any local and foreign auditors.
"We have worked extremely well with the University of Nottingham Malaysia on a project supported by the British High Commission in Malaysia and a second project supported by the EU (European Union). Collaborative work is ongoing with the International Labour Organization and International Organization for Migration and many other institutions and NGOs (non-governmental organisations) including activists, to ensure that our members are inculcated with the best manufacturing practices in regard to the full compliance of the environmental, social, and governance (ESG) standards.
"On our ESG efforts and progress, we have been providing quarterly updates to our major importing countries including the USA, EU, the UK, and others via their respective high commissions/embassies in Malaysia," added Supramaniam.