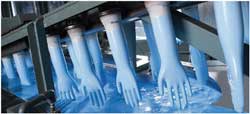 Amid the surge in new Covid-19 cases worldwide, demand for PPEs, including gloves is projected to rise. Malaysia, the world's largest rubber gloves manufacturer is reportedly racing to increase production to augment supply until 2023.
The Malaysian Rubber Glove Manufacturers Association (MARGMA) has forecast demand to remain strong until the 2nd quarter of 2022. Global supply of rubber gloves is expected to reach 420 billion gloves this year and Malaysia will account for 67% of the total to 280 billion gloves. Thailand (18%), China (10%) and Indonesia (3%) will be filling in the bulk of the demand.
Meanwhile, Malaysia's gloves export revenue is expected to grow at 8% to RM38 billion in 2021, lower than the 103% growth a year ago, MARGMA said. Last year, export revenue was at RM35.3 billion, more than double than the previous year's RM17.35 billion owing to the "abnormally strong demand" for rubber gloves due to the Covid-19 pandemic.