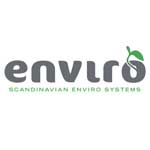 Scandinavian Enviro Systems (Enviro), based in Sweden, and US's Treadcraft Carbon will soon establish a plant for the recovery of used vehicle tyres – the two companies have signed a term sheet on the deal and will finalise the final agreement sometime in late 2019.
The jointly-owned plant is to feature Enviro's patented technology of recycling valuable resources from end-of-life tyres, such as recovered carbon black (rCB), oil and steel. In the signed term sheet, the parties agree on the construction cost, payment and delivery, guarantees, contractual penalties, and applicable law, among others. They will also negotiate the terms of a complete and definitive construction agreement regarding a US$33 million recycling plant in Buffalo,in addition to the terms of a joint venture and licensing agreement.
Treadcraft Carbon is a subsidiary to Canada's trucking company Treadcraft, while Enviro owns and operates tyre recycling plants. Their Åsensbruk plant in Sweden, notably, has an annual capacity of 6000 tonnes of tyres. The carbon black from the plant is used to produce rubber components for the automotive industry and end customers include Volvo Cars and Trelleborg Wheel Systems.
As increasing market interest in rCB and bio-oil will require additional recovery plants,Thomas Sörensson, Enviro's CEO, said of their new business strategy of being part-owners of such plant projects:"This agreement both confirms Enviro's new strategy and constitutes the first plant outside Sweden where we become one of the owners."