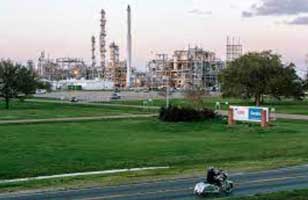 In the US, in a Louisiana town of 10,000 people, the US Environmental Protection Agency (EPA) has said there is some of the most toxic air in the US. More than 100 petrochemical plants and refineries dot the corridor between New Orleans and Baton Rouge, often referred to as "cancer alley."
The town of Reserve is right in the middle of it, and the cancer risk there is almost 50 times the national average, according to the EPA.
Japan's Denka Performance Elastomer has a plant in Reserve that makes neoprene synthetic rubber. One of its components, chloroprene, a known carcinogen, is released regularly into the air. It is this that has been found to be the cause of poor health of people living in Reserve, with health problems ranging from dizziness and severe headaches to liver and lung cancer.
Early this year, the EPA and the Justice Department sued Denka, alleging its plant posed "an imminent and substantial endangerment to public health," along with chemical company DuPont, the plant's property owner.
The EPA found that chloroprene emissions were up to 14 times higher than recommended levels.
Based on a 2019 study, by the University Network for Human Rights that had found actual cancer rates surrounding Denka are higher than expected, Denka had then responded that the EPA's chloroprene concerns were "based on faulty science," resulting in a "dramatically inflated risk factor."
Meanwhile, a more recent 2022 study co-authored by environmental scientist Dr. Kimberly Terrell, a professor at the Tulane University School of Law, found a link between cancer and toxic air pollution in places like Reserve. Terrell had said the emissions were "ten times higher than what would be the acceptable level."
In a statement provided to CBS News report recently, Denka said it has reduced chloroprene emissions by 85% and invested US$35 million to reduce pollution.
However, the Justice Department contends Denka has not moved quickly enough to address the issue.