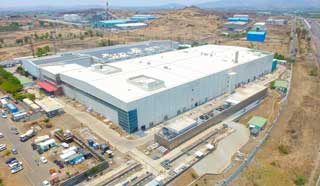 Manufacturer of system-critical elastomer components for pharmaceutical packaging, Datwyler, will nearly double capacity at its production operation in Pune, India, and add 400 jobs in the near future. By starting up a second plant on the premises in the third quarter 2022, Datwyler says it will increase output significantly to meet growing global demand.
For some time now, Datwyler has been operating all three production standards at its Indian site: Essential, Advanced and FirstLine . Examples for the FirstLine Standard are OmniFlex stoppers for use in vials for global distribution. FirstLine is specially designed to manufacture pharmaceutical rubber components for the high-end pharmaceutical and biotech markets. It is designed to meet high bar for quality assurance in the production of critical components for pharmaceutical packaging. The operation encompasses ultra-modern cleanroom technology, automated production cells, automated camera inspection, and a unique validated washing process.
The expansion of the Pune facility originally began in 2019, making the original facility Datwyler Healthcare's largest production operation by volume. Since then, a whole second plant for Essential and Advanced production standard has been added to the campus. This will enable Datwyler to continuously relocate Essential and Advanced production units from the first plant to the new second plant. As a result, there will be free space in the first plant, which will make it possible to expand production capacity for the FirstLine standard.
The entire facility incorporates rational and lean production flows in accordance with the Six Sigma methodology. The FirstLine standard is used to produce Datwyler's most complex elastomer components.
Furthermore, Datwyler adds that its highly specialised fluoropolymer spray coated components are manufactured exclusively with this standard and FirstLine is characterised by numerous components.
The impetus for the expansion at the Pune facility comes from the demand generated for critical pharmaceutical packaging components as the injectables market is growing rapidly.