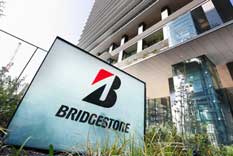 Japanese tyre maker Bridgestone Corporation has withdrawn from the conveyor belt business. It said that it plans to reduce its production and sales volume gradually to minimise the impact to the operations of its customers and suppliers, and will withdraw from the business completely by the end of 2024. Bridgestone said it is restructuring the portfolio of its diversified products business to sharply focus on areas where it can leverage its core competencies, as part of the overall reinforcement of portfolio management in its Mid Term Business Plan (2021-2023).
Conveyor belt business is part of the chemical and industrial goods division, which accounts for almost half of the Bridgestone Group's varied products sales. Throughout its history, the Group has entered and exited several diversified chemical and industrial products businesses in response to changes in social requirements and the commercial climate.
Bridgestone said that it has thoroughly and comprehensively analysed and evaluated the conveyor belt industry, including the potential to use Bridgestone's core skills and profitability, before the decision was made to exit from the business. The fundamental factor in the decision was that its conveyor belt business could not continue to provide outstanding social and customer value while remaining profitable.