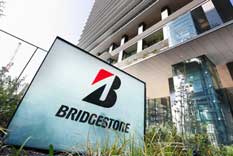 Japan's tyre maker Bridgestone Corp. is expanding its production capacity for premium passenger car tyres at four of its manufacturing facilities in Japan, at its Tochigi, Hikone, Hofu, and Tosu plants. Construction will start in the first quarter of 2022. Entailing a total investment of approximately US$70 million, the production capacity expansions of premium passenger car tyres are projected to result in an increase of approximately 6,200 tyres per day (more than 10% of current capacity) within 2025.
This production capacity expansions were decided based on the recognition that to reinforce structure to "produce" premium products of passenger car tyres plants in Japan, which are the core to master manufacturing, is essential to such initiatives, Bridgestone adds.
Bridgestone is moving forward with premium business strategy, which "produce and sell" high value-added "Dan-Totsu Products" in its core business as described in Mid Term Business Plan (2021–2023), which was announced on February 2021. It adds, "In our premium business strategy, we are reinforcing our "premium production" taking into account sustainability and the evolution of mobility."
Bridgestone Group not only expands its sales of high rim diameter tyres for passenger car as premium products, but also reinforces and expands the innovative tyre technology ENLITEN as the new "premium".
ENLITEN will expand its values not only as tyre technology, but also as product, through improvement of tyre performance which meets conditions of each customer use.
Furthermore, the group also aims to establish ENLITEN as business model, "embracing the activities for carbon neutrality, realising circular economy, maximising productivity and economic value through the entire value chain starting from research and development, production, sales, and customer use of tyres".