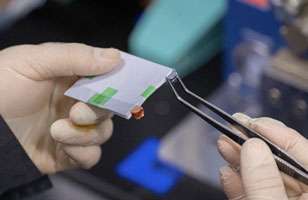 Synthetic rubber maker Arlanxeo has launched a new pouch cell line for developing innovative synthetic rubber solutions in lithium-ion batteries. The upgrades were completed at the Changzhou battery lab in China, enhancing local R&D capabilities and reinforcing its commitment to accelerating advanced applications for new energy technologies.
It adds the upgrades were "driven by sustainable development goals and the increasing demand for high-end battery applications for electric vehicles".
"Arlanxeo is committed to providing premium rubber products and delivering innovative products in China, which remains one of our most important strategic markets. With our newly upgraded battery lab, we are in a position to add value to our customers through the co-development of cutting-edge battery solutions, whilst also contributing to the overall upgrade of the new energy industry," said Hong Sun, Managing Director at Arlanxeo China.
With this new pouch cell line placed in an ultra-dry space (<0.1% relative humidity at 23C), the company now has the capability to simulate industrial battery manufacturing for high-quality soft pack lithium-ion batteries, evaluating their performance and quality according to application needs.
The upgraded battery lab has also been set up to evaluate the production requirements of high nickel ternary materials, allowing for the testing of all-solid-state batteries. This can support the development of batteries with better energy density, safety, and sustainability. These batteries can be used for vehicle power batteries, small power batteries for two-wheeled vehicles, digital batteries, and other applications.
"With this upgraded battery laboratory, we now have a state-of-the-art platform for the evaluation of our advanced synthetic rubber products in battery applications. This investment is a direct response to the new mobility market demand for innovative elastomer solutions. In addition, we will continue to collaborate with customers to develop improved thermal management capability and improved noise and vibration control. At ARLANXEO, we are confident that our upgraded lab will lead to advancements in new mobility applications", said Herman Dikland, Chief Technology and Sustainability Officer at Arlanxeo.
As a vital component of Arlanxeo's Regional Technical Centre (RTC) in Asia, the Changzhou battery lab is an important hub to facilitate collaboration with customers and industry partners to accelerate the introduction of innovative elastomer solutions for improved battery stability, adds the company.