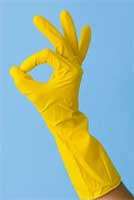 The Covid-19 pandemic, which has tipped the scales of the majority of industries, has triggered unprecedented demand for the rubber gloves sector. Two of Malaysia's leading rubber gloves producer, Hartalega and Top Glove, are on the receiving end of this "windfall".
Kuala Lumpur-based Hartalega, a leading global nitrile glove producer manufacturing 14 billion gloves annually, posted a net profit of RM1 billion in the third quarter ended Dec 31, 2020, a huge leap from RM 121.27 million over the same period a year ago.
Revenue also increased by 167.4% to RM 2.13 billion against RM 796.55 million previously, according to Hartalega. It has been reported that the company has F has achieved higher sales revenue of RM 4.40 billion for the nine months ended Dec 31, 2020 (9MFY21), an increase of RM 2.25 billion or 104.8% from the previous period.
Hartalega intones to continue with its Next Generation Integrated Glove Manufacturing Complex (NGC) capacity expansion plans. All 12 production lines in Plant 6 of NGC facility have been fully commissioned, it said, adding that four out of 10 lines in its Plant 7 have been commissioned. Upon full commissioning, Plant 7 will have an annual installed capacity of 2.7 billion pieces.
With the progressive commissioning of Plant 7, the group's annual installed capacity is expected to increase to 44 billion pieces by FY 2022.
Hartalega said it is also optimising the integration of technological solutions including Industry 4.0 within its business processes and operations.
Another Malaysian glove major, Top Glove, is also continuing on its expansion plans, especially that the pandemic has further raised the demand for life-saving gloves and other personal protective equipment, it stated. Over the past three years, Top Glove, which has a production capacity of 9 billion/year, and corners 26% of the world market share for rubber gloves , has been embarking on increased automation across its operations towards increasing efficiency in terms of production, quality and cost, minimising human error and reducing dependency on manual labour.
The company said that its initiatives in this area have intensified with the ongoing pandemic and international borders still closed. It is also filling the employment gaps from the Malaysian talent pool. In 2020, the company hired a total of 6,599 Malaysians, including 1,654 interns. In 2021, the company is reportedly hiring 9,000 Malaysians.
With the global demand for gloves expected to grow between 15% and 25% annually over the next two to three years, on the back of higher usage and increased healthcare awareness, Top Glove said it will be expanding to meet this increased demand. In 2020, Top Glove has invested RM2 billion and is planning to invest another RM10 billion for the next five years which is from 2021 to 2025 in CAPEX. This increases its production capacity from the current nearly 100 billion pieces of gloves/year to 200 billion pieces of gloves/ year by 2025.