Also, download this story from the electronic issue here
Processing of scrap tyres as viable source of energy, fuel, and materials for key applications is gaining traction in the rubber industry, says Angelica Buan in this report.
Annually, more than 1.5 billion new tyres are rolled out of factories, while an estimated 1 billion waste tyres are generated globally, and compete for landfill space against other waste types. Managing waste by recycling is a sound measure. However, the recycling industry, for now, can only do so much. Every year, only about 100 million tyres are being processed or 10% of the estimated volume of discarded tyres.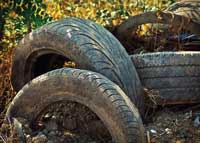 Tyres, which are designed to be virtually indestructible under a variety of conditions, are difficult to recycle. Nevertheless new generations of recycling technologies that are being developed are expected to facilitate tyre recycling, and hence, increase recycling rates.
Recycling, a component of the circular economy, can minimise waste generation and ultimately sustain a lucrative scrap tyre recovery market.
Market analyst BCC Research projected the scrap tyre recovery market to be worth US$9.5 billion by 2022, up from US$7.6 billion in 2017, at a CAGR of 4.5%.
Applications for scrap tyre rubber are dominated by rubberised asphalt and moulded and extruded products. Major markets that include fuel, civil engineering applications and ground rubber markets, are driving the global scrap tyre recovery market.
ELTs closing the loop
Circular economy, a regenerative model of production and consumption, aims to supersede the "take, make and dispose" linear model, so that waste is transformed into material feedstock and other high value products, such as fuel and more.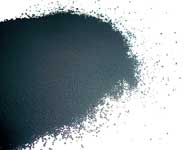 Alliances among industry players are augmenting circularity in the rubber industry. German engineering, procurement and construction (EPC) contractor MMEC Mannesmann GmbH and Dutch tyre-tocarbon black upcycling company Black Bear recently formed a strategic partnership to promote Black Bear's breakthrough technology for producing recovered carbon black (rCB) from end-of-life (ELT) tyres.
MMEC is an expert in executing turnkey projects in the oil, gas, refining, chemical and renewables industries while Black Bear has manufactured the world's first Cradle-to-Cradle certified rCB. In several industries, rCB is used as an additive in rubber, tyres, plastics, coatings and inks, bringing black colour into products.
Currently, carbon black, which is used to modify properties into usable products, is produced by combusting oil (known as the furnace process), emitting CO2 and thereby polluting the environment.
This process no longer fits the standard of manufacturers that scout for sustainable alternatives to reduce their environmental footprint. Employing a technology like MMEC's ensures that the growing demand for rCB is met and matched by Black Bear's time-to-market requirements, according to the company's Construction Director, Joost Raimond.
Black Bear looks to setting up more tyre upcycling plants with local partners around the world, focusing on Europe for its next plant, it said. When it reaches its full potential of repurposing ELTs with its circular solution, Black Bear says it will be able to reduce the global oil consumption by more than 215 million barrels/year.
Converting tyre scraps to energy
Waste tyres are also a major source for energy and fuel, derived via waste-to-energy (WTE) conversion technologies. Tyre-derived fuel (TDF) is potentially cleaner and more efficient than conventional solid fuels.
According to the US Environmental Protection Agency (EPA), tyres when burnt generate the same amount of energy as oil; 25%-50% more energy than coal, and 100%-200% more energy than wood. Moreover, the EPA and state-testing facilities have shown that TDF produces low emissions compared to other conventional fuels.
Given these findings, TDF demonstrates as a more economical and viable alternative to fossil fuels. It is also is suited for energy intensive processes in utility boilers, cement kilns, and pulp and paper mills.
More importantly, TDF underscores that tyres from waste streams can be diverted to produce a high value product. According to the national trade organisation, US Tire Manufacturers Association (USTMA), the US TDF market used 106 million tyres in 2017 or over 43% of total annual scrap tyre generated.
Meanwhile, the country, which generates 300 million scrap tyres/year, according to the Institute of Scrap Recycling Industries (ISRI) data published in 2018, opens up opportunities for tyre-derived energy investments.
Sobe Energy Solutions, owner and operator of sustainable power generation technology, has secured investment funding for its portfolio in sustainable energy projects in the US. The portfolio will encompass raising initial financing of US$990 million to cover the construction and implementation of several WTE technology plants.
The plants will process hydrocarbon-based waste such as used tyres, as well as all seven grades of plastic and electronic waste. These prolific waste streams are converted into a clean synthetic gas that can be used in burners to produce steam or chilled water, or in reciprocating engines or gas turbines to produce electricity.
Based on Sobe's micro-energy facility concept, the technology reduces customer costs and helps address the major issue of hydrocarbon-based waste in the US.
Sobe's phased intent is to invest US$120 million in Ohio. The company has purchased the assets of a district public utility and the new company will be rebranded Sobe Thermal Energy Systems.
Roads plying the recycled route
The global market for recycled rubber is also expected to surpass US$6 billion by 2025, according to Global Market Insights, driven by demand from high revenue applications such as infrastructure.
Many countries worldwide, amid a growing propensity for sustainability, are paving more roads with rubberised asphalt concrete (RAC) made with recycled tyres. For one, paving a mile/inch of road already utilises 1,000 waste tyres. Cost-efficient and environmentally-friendly, RAC can last 50% longer than conventional road application materials, and thus saves on maintenance costs.
Additionally, RAC enables quiet roadways and safe driving by potentially reducing road noise by as much as 85% (or up to 4 decibels), while providing better traction and visibility in wet weather.
New material technologies are being developed and launched to make ELT rubber recycling successful.
German speciality chemicals company Evonik Industries has developed a new rubber process additive that can convert scrap tyres into materials for road construction application. Evonik's Vestenamer, a thermoplastic processing additive, allows processing of waste rubber to a robust material and minimises the degradation of properties that is associated with the use of recyclates, it says.
The recycled material, when mixed with road construction bitumen or asphalt, enhances the quality of the mixtures and lengthens the service life of roads, said Dr Peter Hannen, Market Development Manager for Vestenamer.
Hannen expressed that there is lack of confidence in the quality and durability of roads built by using additives for the production of rubber-modified bitumen or asphalt in regions like Europe. The reactivity and polymer structure of the additive creates a good network density between rubber particles, which leads to enhanced mechanical characteristics, he said.
The material recycling of scrap tyres is also becoming more important from the ecological viewpoint. For example, the use of scrap tyre granulate in new products contributes significantly toward reducing the carbon footprint by up to a third as compared with products that do not use a recycled material, said Hannen.
Higher levels of rubber powder in road surfaces can also dampen traffic noise. As Evonik explained, road surfaces consisting of rubber generate significantly lower VOC (volatile organic compound) emissions, as compared to roads made with polymer-modified asphalt.
Over in the UK, building materials and construction solutions company Tarmac has developed a new rubberised asphalt technology capable of recycling ELTs for road applications. With 40 million waste tyres/year produced in the UK, the company has created an asphalt mix using granulated rubber. Tarmac estimated that it will be possible to recycle and reuse up to 750 waste tyres for every km of highway surfaced with the new material, depending on the thickness of the road, which would help to reduce the 120,000 tonnes/year of rubber waste from being exported from the UK. Tarmac recycles 8.7 million tonnes/year of waste from other industries. It also builds on the company's reuse of waste tyres to power its cement kilns and its commitment as a net user of waste.
Brian Kent, Technical Director at Tarmac intoned how the significance of recycling used tyres in the circular economy agenda is often overlooked against the focus given on recycling plastics.
He disclosed that the country lacks the necessary industrial infrastructure required to allow manufacture of this type of material. Against the backdrop of major investments in the strategic road network, there is now an opportunity to leverage this technology and unlock the benefits of this circular economic approach, he said.
Tarmac is trialling the material and has recently supplied asphalt with rubber in Coventry, the country's first city to have rubber roads.
Thus, with scrap rubber being an under-used waste stream, it can be seen that ELTs can pave the way forward with more uses in the pipeline.