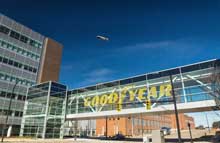 The Goodyear Tire and Rubber Company (Goodyear) will be suspending production at its tyre, retread and chemical plants in North and South America until early April as it braces against the sudden decline in market demand following the COVID-19 pandemic. To be carried out in phases over the coming days, the move will affect Goodyear's 13 American plants, which employs roughly 17,000 workers, as well as other plants in Brazil, Canada, Chile, Colombia, and Mexico. The company's plant in Peru was closed earlier this week.
Goodyear will closely monitor the local conditions surrounding its warehouse and distribution operations, as well as inventory and supply levels. In addition, the company is following guidance from the US Centers for Disease Control and Prevention, and has introduced preventive measures at its facilities in the Americas, including limiting visitor access and business travel, implementing remote working and social distancing practices, and increasing frequency of disinfection.
A day ago, Goodyear suspended operations at its tyre and retread plants in Europe, until at least April 3, 2020, as a measure to protect its employees and in response to the sudden decline in market.The European initiative includes 11 tyre plants in France, Germany, Luxembourg, Netherlands, Poland and Slovenia, which collectively employ nearly 12,000 workers.
Goodyear assured that warehouses will remain operational on a reduced staffing schedule, with "strong social-distancing practices" in place to protect the health and well-being of employees and business partners. These temporary measures are being implemented in full agreement with local social partners, Goodyear added, and in a way to help slow the pandemic and allow prompt production start-up when public health and market conditions improve.