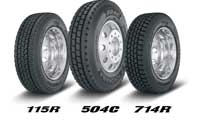 Yokohama Tire has launched a set of three new commercial truck tyres – the 504C and 115R, a pair of all-position models and the 714R, for urban pick-up/delivery; Yokohama will also expand the size range of the 715R open-shoulder regional drive tyre and the 114R regional haul ultra-wide-base trailer tyre. Yokohama displayed the new tyres alongside light tuck/off-the-road products in a February 2020 tyre show in Atlanta, US.
The 504C, manufactured in Yokohama's Mississippi plant, is an all-position radial with a sturdy under tread, engineered to handle the punishment of on-and-off-highway applications. Yokohama's Senior Manager of Commercial/ OTR product planning, Tom Clauer, said the tyre's improved retreadability and longer overall casing life makes it "the perfect performer for jobs that go beyond where the pavement ends."
The 504Cwill be available later on, in May, in sizes 11R22.5 (H) and 11R24.5 (H).
The 115R, also an all-season/all-position tyre, is built to provide class 4 and 5 vehicles with year-round traction and dependability. The tyre is specifically engineered with a heat-resistant compound for better fuel efficiency and longer lasting tread, and carries an N speed rating (87 mph).
The 115R will be initially available in one size, 225/70R19.5 (14).
Yokohama's 714R, designed for pickup-and-delivery fleets, features durable construction and "outstanding" fuel efficiency; its wide shoulder grooves also provide improved wet and snow traction.
It will be available this summer in sizes 225/70R19.5 (14) and 245/70R19.5 (16).
Meanwhile, Yokohama is adding three sizes to the 715R, an open-shoulder regional drive tyre —295/75R22.5, 285/75R24.5 and 11R24.5. Additionally, the company is introducing size 455/50R22.5 this spring to its regional haul ultra-wide-base trailer tyre, the 114R UWB.