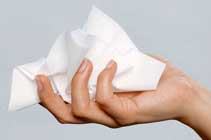 International supplier Wacker Chemie (Wacker) is to market its silicone-based products for household, consumer and sanitary paper products under the Liosil brand. The brand will include Liosil FC additives for fabric care, Liosil HC additives for household care,and Liosil TS for tissue lotions, silicone fluids and emulsions.
Applications for silicone fluids and emulsions are used in many consumer goods: Liosil FC ensures wrinkle-free fabrics and makes towels softer and more absorbent; Liosil HC can help protect flooring through impregnated textiles and give a brighter shine to leather and other furnishings; while Liosil TC can enhance the texture, absorbent and anti-scratch properties of sanitary paper.
Besides this, Wacker has introduced the Liosil eco brand of silicone additives – it completely replaces fossil-based raw materials with plant-based, climate-neutral materials. Liosil eco silicones will use a biomethanol-based approach for the household, cosmetic and personal care industries.
"Liosil is now the official brand name for our household care products," said Thomas Koini, who heads the Performance Silicones business unit at Wacker Silicones. "With Liosil Eco, we also have a product line in which the fossil-based components are entirely offset by renewable raw materials."
"In a market where sustainability and protecting the climate are becoming increasingly important, additives like these can give our customers a crucial competitive advantage,"Koini said.
Wacker said its Liosil brand will still comprise a number of established silicone products that had been marketed under the Wacker name, and those product grades will remain valid.