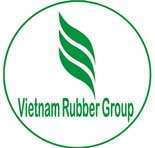 The Vietnam Rubber Group (VRG) is turning to mergers and acquisitions (M&As) to help close the value chain of rubber tyre and tube products. VRG said, in a recent meeting with the Committee for Management of State Capital (CMSC), that they planned to restructure the tyre and tube production business via M&As over affiliate companies of the multidisciplinary Vietnam Chemical Group (Vinachem). This would hopefully increase investment in the natural rubber industry as well.
VRG is managing more than 400,000 ha of rubber plantations (average yield of 1.56 tonnes per ha in 2019) at present. VRG's business has been on a downward trend in recent years due to low selling prices, with lower demand and output thanks to the COVID-19 pandemic.
However, VRG will continue on with planting and processing rubber latex, processing rubberwood, processing rubber industrial products, running industrial parks on rubber cultivation land, and developing high-tech agriculture – expanding rubber tyre and tube production through M&As with Vinachem is expected to help regain their footing in this segment.
Vinachem is an established player in the tyre segment with four-member units producing rubber tyres, namely Da Nang Rubber (DRC), Sao Vang Rubber (SRC), Southern Rubber Industry (CSM), and Inoue Rubber Vietnam Co Ltd.