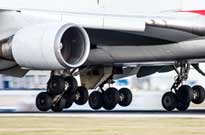 US-based Tyrata Inc. (Tyrata), a tyre sensor and data management company, has successfully measured aircraft tyre tread depth using its IntelliTread tyre sensor (ITS) technology. The sensors use carbon nanotubes to measure millimeter-scale changes in tread depth, and so, are able to monitor tyre wear.
Aircraft tyres are usually subject to extreme operating conditions – determining tread thickness in real-time will provide vital information to appropriately maintain tyres to ensure their performance and safety.
Tyrata's newest technology is likely to complement current tread-depth evaluation practices and will contribute to improved aircraft tyre safety. Tyrata is also planning additional durability and in-tyre sensor field tests for aircraft tyres in the near future,as part of its "comprehensive suite of tread-depth measurement systems" and cloud-based analytical tools.
Aaron Franklin, Tyrata's CTO, said: "The initial IntelliTread ITS data is very encouraging; however, we need to proceed with further testing, as aircraft tyres vary significantly in construction, tyre structure, and material compounds from automotive and truck tyres."