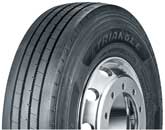 Triangle Tire USA, a wholly-owned subsidiary of Triangle Tire Co. Ltd. headquartered in Weihai, China, has recently added an all-steel special purpose trailer tyre to its portfolio. The new TRT01S features all-steel construction for durability and long tread life and is designed exclusively for recreational and small work-related trailers. The tyre is available in two sizes, ST235/80R16 and ST235/85R16 (both 14-ply rating, M-speed rated). Triangle expects even, uniform wear with the TRT01S' solid shoulder rib and circumferential grooves as well as improved tread wear with its specially-designed cool-running compound.
In addition, the TRT01S comes with Triangle's two-year road-hazard warranty and a 100% replacement manufacturer's warranty within one year of purchase and 50% replacement in the second year.
Triangle Tire USA CEO Manny Cicero said the company has been focused on specialty trailer tyre development recently: "Very few manufacturers offer an all-steel casing in specialty trailer tyres – we're confident this will be a customer-pleasing product for our dealers who serve the market."
Specialty trailers include those for boats, horses and campers, and those for work-related use, such as landscape service.