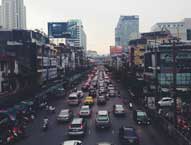 The Central Government of India is planning to implement a new set of rules, similar to international automotive standards, for its own automotive industry. To be managed by the Ministry of Road, Transport, and Highways (MoRTH), the regulations will include a "transformational programme of emission and safety measures" as well as the compulsory use of tyre pressure monitoring systems (TPMS)in transport vehicles.
The first set of these regulations will likely all come into force by October 2020.
The Indian automotive industry has undergone a number of changes in the domain of passenger safety, emission control and connected technology in recent years, such that the industry is now at par with Europe, Japan and the US, said MoRTH.
To keep up with changes, MoRTH will implement standards for electronic stability control systems (ESC) and brake assist systems for relevant vehicle categories within the next two years. A draft notification has been issued for ESC systems for buses, which is likely to be implemented by April 2023.
MoRTH have also finalised much-needed amendments to the Indian Motor Vehicle Act and mentioned the recently introduced Bharat stage emission (BS-VI) norms as part of the new rules. Vehicle manufacturers must comply with the BS-VI to ensure proper regulation of air pollutants from engine equipment such as internal combustion engines or spark ignition engines.