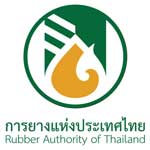 Thailand's rubber farmers, who have sold their rubber at loss for the last five years, are to be assisted under the new project by the Ministry of Agriculture and Cooperatives – a price guarantee project.  According to its Minister Chalermchai Sri-on, about 1.4 million documented/undocumented rubber farmers will benefit from the initiative. The guaranteed price project will be implemented from October 2019 onwards and rubber farmers will be eligible to join after registering with the Rubber Authority of Thailand (RAOT).
Under the project, a volume of 20 kilograms of rubber is guaranteed per 0.06 hectares of plantation per month while the guaranteed prices are THB60 (US$1.96) per kilogram for raw rubber sheets, THB57 (US$1.86) per kilogram for fresh resin and THB25 (US$0.82) per kilogram for cup lumps of rubber.
Chalermchai said all identification of the farmers who are entitled to join the project, examination of their entitlements as well as assessment and gathering of related information are to be submitted to the Bank for Agriculture and Agricultural Cooperatives (BAAC). The bank will transfer the money to the rubber farmers' accounts from December 15, 2019, and will notify RAOT.