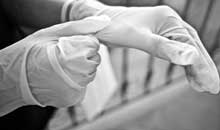 Thailand's Ministry of Agriculture and Cooperatives is planning new, creative was to develop its rubber products, including research grants, funds for startups and the creation of a "Rubber Valley" hub for innovative rubber projects.
The "Rubber Valley" proposal will be managed by the Rubber Authority of Thailand (RAOT), with the southern province of Nakhon Si Thammarat being surveyed for the project. The proposal is likely to be finalised before end-2020.
According to deputy government spokeswoman Rachada Dhnadirek, Thailand's export of natural latex gloves has grown since the start of the COVID-19 pandemic. Thailand is the world's second-largest rubber glove exporter with up to 15% annual growth, global sales of the gloves is expected to be worth THB 40 billion (US$1.28 billion) this year. The potential growth has prompted the government to launch an initiative to make Thailand a global hub for rubber glove manufacturing.
As such, the ministry will work with the Commerce Ministry in promoting Thai rubber, matching local traders with foreign players and collaborating with national research agencies, universities and business operators to enhance glove production technology.
Rachada said the ministry also plans to cut down the amount of land designated for rubber plantations, which will reduce annual output by at least 500,000 tonnes.
Meanwhile, state agencies have been instructed to increase the use of latex and rubber in construction projects to boost domestic natural rubber consumption. Themost notable effort is seen in the Transport Ministry, which plans to use one million tonnes of rubber in road projects until 2022.