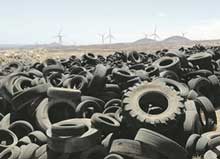 A recycling plant will soon be set up to clear the tyre dump at the Arico landfill (Complejo Ambiental) in Tenerife, the largest of Spain's Canary Islands. The Tenerife Environmental Commission has finally given permission for the construction of the recycling plant at Arico after months of setbacks. The plant will be built on the Cabildos plot in the industrial area of the Complejo Ambiental.
The recycling plant will feature a large shredder to deal with some 7,800 tonnes of used tyres accumulated over fifteen years and the waste exported by an authorised handler – it is expected to take nearly six months to process the used tyres.
Environmental efforts in Spain have beenslow going: back in 2016, a huge waste tyre dump in Seseña, Toledo, on the Spanish mainland, went up in flames and 88,000 of the around 100,000 tonnes of tyres that had accumulated there were illegally burned, posing a significant environmental hazard. However, it was not until September 2019 that local waste business Gescaneus SL was finally commissioned to remove the old tyres, for about 2.1 million euros.