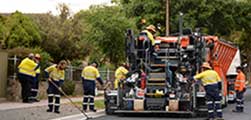 A major South Australian trial using recycled (crumb) rubber from end-of-life tyres will begin soon – at least six councils – the cities of Mitcham, Port Adelaide Enfield, Campbelltown, West Torrens, Onkaparinga, and Salisbury – will take up the project, together with Tyre Stewardship Australia (TSA) and Topcoat Asphalt Contractors (Topcoat Asphalt). The trial will use the equivalent of around 3400 passenger vehicle tyres or more than 20-thousand kilogrammes of crumb rubber; each of the six sites will use about 566 passenger tyres.
Topcoat Asphalt will first mix the crumb rubber into a special high-grade, high-rubber mix, based on specifications used in California, US, where crumb rubber is commonly used in roads. Later, in two adjacent road sections on the trial site, one 200m section will contain the high-grade mix while the other will be covered with regular asphalt. The roads will be tested for resistance to rutting, susceptibility to cracking and moisture damage over a minimum of two years.A positive outcome is hoped to encourage more councils/governments to use crumb rubber in their road network.
The city of Mitcham's Principal Engineer, Russell King, said the road technology has improved performance due to less cracking and increased life span: "We already know crumb rubber from old tyres works well and even out-performs regular asphalt in other countries."
Rod McArthur, Technical Manager Topcoat Asphalt, continues: "This trial is about proving that the product works just as well here in South Australia, using the tried and tested Californian technology, without having to reinvent the wheel."
"South Australian Councils are leading the way by embracing this landmark opportunity in the development of the circular economy in Australia," said the CEO of TSA, Lina Goodman. "It's time we saw old tyres as a valuable product that can be used to make roads last longer all around Australia. This technology benefits both the ratepayer and the environment by improving asphalt performance and removing old tyres destined for landfill."
"The 2019 Council of Australian Governments (COAG) ban of the export of old tyres is another reason governments should embrace this technology," she added.
While the equivalent of 29 million passenger tyres are upcycled, recycled or processed locally each year, over 27 million tyres are still not being recycled. These often end up in landfill, stockpiles or are exported overseas. As such, TSA has committed US$5 million to a wide range of Australian projects using waste tyres including horse racing tracks, car parks, sports grounds, playgrounds and even blast-proof construction materials.