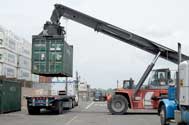 Sri Lankan Minister of Industries Wimal Weerawansha and Hambantota International Port Group Pvt. Ltd. (HIPG) recently met up to decide on the building of a US$300 million tyre factory in the southern port city of Hambantota. The factory will be constructed at the Hambantota International Harbour premises in a 280 hectares-large industrial zone.
HIPG CEO Ray Ren said that 2,000 employees will be required for the factory and they would be recruited from the area. All materials needed for the production of tyres is also expected to be resourced entirely from Sri Lanka.
HIPG was formed from an agreement between the Sri Lanka Ports Authority (SLPA) and China Merchants Port Holdings Co. Ltd. (CM Port). China has helped fund numerous ports around the world – the proposal made by the HIPG is primarily focused on promoting industry in Sri Lanka.