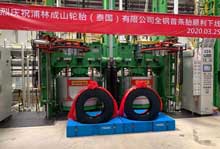 Chinese tyre maker Prinx Chengshan Tire (Thailand) Co. Ltd. – now known as Prinx Thailand – has just successfully produced its first TBR tyre at its US$300 million plant in Chonburi province, roughly a year after breaking ground on the site in March 2019. Prinx Thailand is stated to be an "innovative" factory that adopts leading design concepts of the tyre industry, in addition to its "green, intelligent manufacturing" capabilities; its projected annual output will be 800,000 units of radial truck tyres and about 4 million passenger and light truck tyres at full capacity.
Prinx Thailand is the first overseas production base of Prinx Chengshan Tire – the company said the "successful completion" of their Thai plant is a "new impetus for the global development of Prinx Chengshan Tire" by providing more valuable choices for its global customers in the automobile accessory market.
Prinx Chengshan Tire was founded in 1976 and sells under the Austone, Chengshang, Fortune and Prinx brands. It is listed on the main board of the Hong Kong Stock Exchange and boasts gross profit of approximately US$152.2 million in 2019.