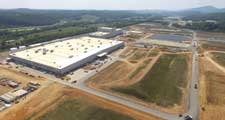 Manufacturer Nokian Tyres has begun commercial tyre production at its North American (NA) factory in Dayton, Tennessee. It is the company's third global production facility, joining others in Finland and Russia. The company officially broke ground on the factory in September 2017 and only opened the world-class, 830,000-square foot complex last October.
The factory uses highly automated and sustainable processes and choice ingredients to craft safe, premium all-season and all-weather tyres tailored to the needs of NA drivers. Nokian Tyres aims to double sales in the NA region in five years' time by leveraging the all-season and all-weather segments – the Dayton factory is expected to produce as many as four million such tyres annually by 2023. In addition, Nokian Tyres' regional headquarters office in Nashville and its sales team throughout the continent is helping to organise the growth process.
Nokian Tyres will also employ as many as 400 workers at the factory to add to the 100 or so team members currently.
"The Dayton factory is a vital growth driver for us in NA, and we're glad it remains on track to deliver premium value to our customers and drivers," said Senior Vice President, Americas Mark Earl. "It will enable us to shorten delivery lead times, satisfy rising demand for our products and help the Southeast Tennessee community grow in the process."
Finnish-headquartered Nokian Tyres invented the winter and all-weather tyres and was selected to the Dow Jones Sustainability Index for the third consecutive year last September. Only the top 10% of the most sustainable listed companies in the world are included in the index.
The Dayton facility is therefore set to maintain strict sustainability standards, to minimise waste and emissions: solar panels, installed in the parking lot, lot will generate 3 megawatts of electricity to be utilised at the facility itself while excess materials that result from production will be recycled. Later in 2020, the company will dedicate a solar-powered administration building that will feature offices, meeting spaces and employee wellness facilities. The company is also building a highly automated warehouse on the property that will be able to store as many as 600,000 tyres and is preparing to introduce new products for NA drivers in the coming months and years.