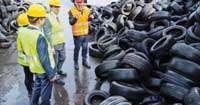 Chemicals company BASF has signed an agreement with technology-based New Energy to use the latter's pyrolysis oil – from waste tyres – used as feedstock at BASF's integrated chemical production site in Ludwigshafen, Germany. The recent agreement will see New Energy provide BASF with up to 4,000 t/pa of pyrolysis oil from a proprietary rubber waste pyrolysis process; the first batches of oil have already been successfully used in a pilot phase.This new agreement comes almost at the same time as BASF has invested heavily in German pyrolysis firm Pyrum.
Viktor Váradi, Co-owner and Executive director of New Energy, said the company is operating an industrial-scale plant with "quantifiable environmental benefit(s)" which turns waste tyres into secondary raw materials. Their process sees reduced need for primary fossil resources as well as the reduced carbon footprint of the newly manufactured products.
BASF and New Energy will additionally conduct a feasibility study to adapt the pyrolysis technology to enable the conversion of other plastic wastes. The study forms part of BASF's ChemCycling project which focuses on chemically reprocessing post-consumer waste plastic on an industrial scale.
"So far, there has been no technology that allowed the recycling of pyrolysis oil from tyres into high value applications. By further broadening our raw material base to waste tyres, we can create a new circular value stream [and] establish a second recycled feedstock in our ChemCycling project with which we can manufacture high-performance products for our customers' demanding applications," said Christian Lach, Project Leader of ChemCycling at BASF.
Apart from Pyrum and New Energy, BASF is also in partnership with plastic waste recycling company Quantafuel in Denmark, which will supply BASF with pyrolysis oil derived from mixed plastic waste.