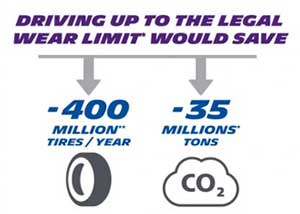 Michelin is looking to cut down carbon emissions at its plants globally – the French tyre major specifically aims to reach zero carbon footprint by 2050, by consuming less and implementing an energy transition, in accordance with the Paris Agreement signed in 2015 to limit global warming.
At present, Michelin claims to have reduced its CO2 emissions by 22% from 2010-2018 and reports that nearly 85% of its European plants are powered by electricity from renewable sources.Michelin's one tyre production facility in Tamil Nadu, with a capacity of 30,000 tonnes per year, will soon follow this "green energy" strategy.
Nicolas Beaumont, VP Sustainable Development and Mobility, Michelin Group, said that Michelin will work to improve the energy efficiency of its industrial tools and eliminate coal and use more renewable energy, as at least 5 of the Group's global plants are still coal-fired.
"The goal is for all our plants around the world to run on 100% green power by 2030."
The company is otherwise focusing on extending the life of its products: Michelin's tyres must offer very high performances until the tread wear indicators appear.
"If drivers used their tyres until the legal tread depth of 1.6 mm, this would keep us from wasting 400 million tyres each year and prevent 35 million tonnes of CO2 emissions," Beaumont added.