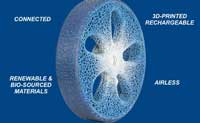 Manufacturers Michelin and General Motors (GM) have recently launched the new MICHELIN Uptis (Unique Puncture-proof Tire System) Prototype, an airless wheel technology. The Uptis Prototype will be first tested on the Chevrolet Bolt EV and on a test fleet of Bolt EV vehicles in Michigan, US, later this year and after collaborative testing will be introduced on passenger vehicles by 2024.
The breakthrough technology enables the Uptis tyres to bear a car's weight over different driving speeds while the wheel assembly eliminates dangerous risks of flat tyres and blowouts, thereupon ensuring driver safety and improved vehicle efficiency. The technology also features near-zero tyre maintenance and reports significant environmental savings through elimination of compressed air and reduced use of raw materials for replacement tyres.
The Uptis Prototype is well suited to today's passenger vehicles and emerging forms of mobility, whether autonomous, all-electric, shared or others, as the future fleets are sure to demand near-zero maintenance from their tyres for maximum operating capabilities.
Michelin's capacity for innovation is demonstrated in both the mastery of these high-tech materials, and the development approach in close collaboration with GM, according to Eric Vinesse, Executive VP of Group Michelin.
Furthermore, the Prototype represents a major advancement toward achieving Michelin's VISION concept for sustainable mobility, presented at 2017's Movin'On Summit in Canada – the concept highlights airless, connected, 3D-printed and 100% sustainable technology.
Florent Menegaux, Michelin's CEO, has also said that Uptis fashions an achievable vision for sustainable mobility through work with strategic partners like GM, who share Michelin's ambitions for transforming mobility.
Global auto maker GM is reportedly thrilled to collaborate with Michelin. Steve Kiefer, GM's Senior VP, has said: "Uptis is an ideal fit for propelling the automotive industry into the future and shows how our customers benefit when we collaborate and innovate with our supplier partners."