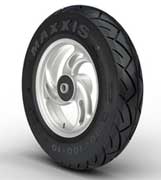 Indian tyre manufacturer Maxxis India has signed a strategic OEM deal with Hero MotoCorp to provide 90/100-10 M6000 53J front and rear tyres for the two-wheeler major's upcoming scooters. The M6000 tyres are designed for scooter strength and safety – a special rubber tread formula will provide greater grip and traction while a digitally-optimised tread pattern ensures no-slip tyre contact under wet roads.
The first consignment has been issued out of the company's technologically-advanced manufacturing facility in Sanand, Gujarat, helming Maxxis' intent to capture 15% of India's two-wheeler tyre market by 2023. The Sanand facility exports are also said to include South Asian, African and Middle Eastern countries in future.
Chun-Hsuan Liu, Plant Head of Maxxis India, said the partnership with Hero will help to triple production volume in FY19.
In Addition, Maxxis has plans to set up five more plants in India to supply domestic four-wheeler tyres, as the Indian market is hoped to propel Maxxis to the global tyre manufacturing platform by 2026.