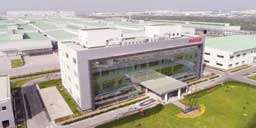 Maxxis India, a subsidiary of Taiwan's Cheng Shin Rubber Ind.Co.Ltd., will resume partial manufacturing operations at its Sanand tyre plant in Gujarat, along the west coast of India. Maxxis India has taken into consideration of the safety guidelines announced bythe Ministry of Home Affairs and the Gujarat State Government and has created some guidelines off its own – the Sanand manufacturing facility will resume its operation in shifts, with restricted manpower.
Additionally, all employees will be made to wear masks provided by Maxxis India whenever they are present inside the facility and will have to pass through the disinfectant tunnel before entering/exiting the facility. At the same time, all employees will have to practice social distancing and maintain a minimum of 6 feet distance between each other at all times.
"We welcome the announcement of reopening manufacturing in Gujarat made by the central and state governments," said Liu Chun Hsuan, Plant Head of Maxxis India. "Following the order, we have restarted partial production from May 4 at our facility in Sanand. All activities will be carried out in accordance with the government regulations and guidelines while also observing the company's highest standards of safety and hygiene for our employees."
Maxxis India had previously shut down the Sanand manufacturing facility in late March 2020 as it complied with Government orders for a complete lockdown in India, in the wake of COVID-19.