Against the back of a global health crisis and an emerging global economic crisis, companies and industries all around the world are dealing with unprecedented challenges as they try to deal with the Covid-19 pandemic.
Tyre market to drastically affect materials
Covid-19 is impacting every single sector globally and one major industry, the airline industry, is struggling with the substantial decrease in the number of passengers and flights, with flights almost grounded worldwide.
It is estimated that airplane tyres are required to be replaced after roughly 300-400 take-offs and landings. With the number of flights being substantially reduced, demand for both synthetic and natural rubbers will decrease as well.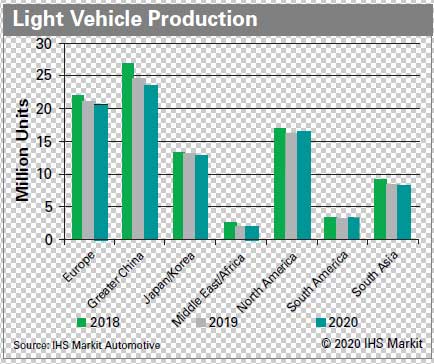 But far more concerning is the automotive industry, adds a report by IHS Markit. The automotive industry was already impaired when Covid-19 started rapidly spreading within China. The country accounts for roughly one-fourth of global light vehicle production and manufacturing sites had to be shut down amid labour shortages, province lockdowns, and logistic problems. This was not only a problem for China, but also for automotive manufacturers in other countries since manufacturers relied on automotive part imports from China.
According to IHS Markit Automotive, the global light vehicle production forecast is around 87.2 million units for 2020, which was forecast before the rapid spread of Covid-19 in Europe and the US. This year's production forecast is lower than 2014 production levels. Global automotive production growth rates were -1% in 2018 and -5.6% in 2019. Global automotive production growth was expected to be -1.9% in 2020, but it is a near certainty that the growth rate will be much lower than pre-Covid-19 views, adds the research firm.
Effect on materials demand
Furthermore, with the reduction in the light vehicle production, demand for the OE tyres will decrease. This will have a spill-over effect on demand for rubber as well as butadiene, since over half of butadiene demand is driven by tyre and automotive industries.
Large butadiene derivatives like polybutadiene rubber and styrenebutadiene rubber are key components of producing tyres and other automotive parts like belts, hoses, and gaskets. Some ABS demand also comes from the production of automotive parts. These three derivatives account for roughly threefourths of global butadiene demand.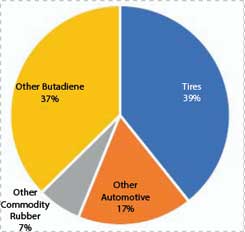 Significant demand decreases will pressure butadiene demand and price. The ultimate magnitude of the impact on C4s and rubbers is still too early to predict at this stage, but the impact is expected to increase until Covid-19 is contained globally, says IHS Markit.
ETRMA brings members together in response to crisis
Meanwhile, with the virus spreading like wildfire in Europe, many member companies of the European Tyre and Rubber Manufacturers Association (ETRMA) have temporarily closed their European manufacturing facilities. ETRMA, has, thus, called for constructive dialogue on remedial measures and support schemes at both the EU and national level.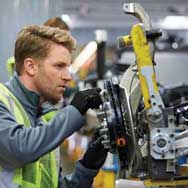 In line with this ETRMA has set up a Covid-19 crisis unit comprising rubber industry associations in a number of EU states. These include SNCP (France), WDK (Germany), Consorcio del Caucho (Spain), Assogomma (Italy) and other industrial federations. The unit is focused on information-sharing and interfacing with the European Commission, with weekly teleconference sessions to share the latest updates and to coordinate measures to restart production.
ETRMA Secretary-General Fazilet Cinaralp said, "Tyres are not only crucial for the movement of goods and people, but for the European economy. We employ approximately directly 370,000 people in Europe. Now it's mandatory to identify how to support our employees and serve the automotive sector and our customers."
Setting up task forces to coordinate the challenge
Many companies have started addressing health and safety of employees first and supplier of silicon-based advanced materials Elkem ASA is no different. Oslo-headquartered Elkem has more than 3,000 employees in China and was exposed early to the potential spread of this disease. However, it was an employee at its head office in Oslo who was its first confirmed case, which led to the temporary closure of the head office early in March.
Elkem's CEO Michael Koenig has said that the company has formed a corporate task force to coordinate its coronavirus response worldwide. "Elkem's production so far continues mainly in line with normal capacity. In China, production is now back to normal levels. We are facing some disruptions in other countries, but those do not significantly impact Elkem's total production. Our largest plants are in China, Norway and France."