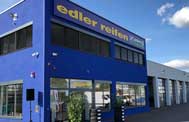 Marangoni's Austrian partner Edler Reifen has recently opened a new 3,000sqm branch in Schillingstraße, 2, Vienna, with storage capacities for 1,800 truck tyres and 25,000 passenger tyres.As the tyre retreading specialist favours Marangoni's Ringtread System  for its cold truck/bus retreading production, the new branch is thus equipped with state-of-the-art equipment and features a Ringtread stand and a Marangoni roll-up display at the front.
Edler Reifen's latest corporate movie, which was shown during the event, includes footage of a Marangoni Ringtreader 2500 -this building machine was installed in aplant inaugurated by the Austrian company in June 2018, soon after it partnered with Marangoni.
Christian Asmuth, Sales Manager at Marangoni Retreading Systems Deutschland, said customers especially appreciate Ringtread patterns such as the BUS400, MIX101 and the Blackline RDR HM3. The successful partnership with Edler Reifen would therefore ensure the best quality solution for Austrian transportation fleets, now and in the years to come.
Edler Reifen serves ÖBB-Postbus, the Austrian Federal Railways sister company and their large fleet of more than 2,200 buses. ÖBB utilises Marangoni's Ringtread RM+SK, a 3PMSF-studdable regional drive pattern specially developed for severe winter conditions.
Family-run Edler Reifen started retreading truck tyres since 1961. Current Company Manager Robert Edler said: "We've been really satisfied with the efficiency and ease of production made possible by Marangoni's leading-edge cold retreading technology. Most of all, the use of premium retreaded tyres significantly lower the operating costs of the fleets and also help to protect the environment."