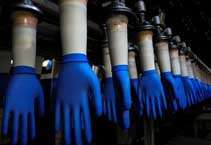 With the Malaysian rubber glove market at a boom at the moment, given the virus pandemic and rising need for gloves globally, a host of companies have laid out plans to enter the industry. The recent additions include companies that are new entrants and were not involved in the medical/glove sector previously.
One of these is property developer Titijaya Land that is partnering glove producer Rubberex Corp. Titijaya had previously already inked an agreement with China's Sinopharm on the sale of medical-related equipment; and with Sinomach Heavy Industry to set up a personal protective equipment (PPE) fabric facility.
Penang-based property developer Aspen Group Holdings, which is listed on Singapore's Catalist board, is also entering the market with a joint venture with investment holding company CMY Capital. In its first phase, it will have an initial investment of RM105 million to produce a total capacity of 1.1 billion pieces of gloves/year in Kulim, from the third quarter of 2021.
IT solution provider Inix Technologies Holdings is investing RM22 million to form a medical rubber glove business joint venture with Lyglan Properties. Under the jv, Inix will hold a 65% stake, while Lyglan will hold the remaining 35% with equity investment of RM12 million. The partners will acquire a factory located at the Sendayan Industrial Zone in Negeri Sembilan to start up production of medical gloves.
Others include precision engineering and automation systems firm AT Systematization Bhd and HLT Global. The latter is a maker of ceramic hand moulds for glove companies and it has 55% stake in HL Rubber Industries.
Kanger International has also had a nudge from Dubai-based Constellation Holdings (a procurement agent for PPE and medical equipment to the United Arab Emirates' Ministry of Health and Prevention). Kanger said Constellation was willing to collaborate either through direct equity participation, such as a jv; or indirect equity holdings via an investment in Kanger, whereby the Emirati company will be a substantial shareholder through a private placement.
Against the back of all this news, the big four glove players, namely Top Glove Corp, Hartalega Holdings, Kossan Rubber Industries and Supermax Corp, also plan to add on more production lines and to acquire more land to build new factories.
Top Glove, which currently produces 78.7 billion pieces of gloves is expected to increase production to 106 billion by end of this year, touching 138 billion pieces by end of next year. Kossan Rubber is producing 32 billion pieces, up from the 29 billion pieces it produced at the end of last year. Supermax is investing RM1.3 billion to increase its production capacity by more than 100%. The company now produces 22.25 billion pieces and will increase its output in phases to 48.42 billion by 2022.
Meanwhile, cleanroom glove manufacturer CE Technology is investing RM50 million into three additional double-former glove-dipping lines to boost its raw nitrile glove capacity to 70.5 million pieces/month, with a further boost to its cleanroom post-processing capacity to 83 million pieces/month via the addition of two new facilities. Both expansions are expected in 18 months.
There is no doubt that the recent glove run has created many millionaires, if not billionaires, with the market capitalisation of the top four glove companies up by RM116 billion.
The glove companies are expected to enjoy a bull run for a while longer, against the back of the Covid-19 pandemic. In fact, the Malaysian Rubber Glove Manufacturers Association (MARGMA) expects global demand to be 345 billion this year, with an average growth rate of 15% for the next five years.
Malaysia exported 170 billion gloves last year and in the next 18 months, production will be up by about 30%.
All this means there will be an ample available supply of gloves come next year, and who knows if the bull run will still sustain.