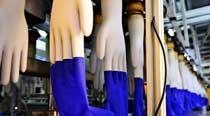 In track to market growth, the Malaysian rubber gloves sector is reporting increasing demand for nitrile gloves while industry players' new capacities are "being swiftly taken up," according to local research house Kenanga Research (Kenanga). Kenanga postulates that the nitrile gloves market share could experience up to 30% growth in 2020 – the analysis follows 3Q results which recorded volume growth of 6% by Top Glove and 14% by Hartalega.
Kenanga has advised investors to focus on nitrile-centric players such as Hartalega and Kossan, whose product mixes predominantly feature nitrile compounds. While Hartalega may tide demand, Top Glove and Supermax could face margins pressure despite being latex-centric with a 50:50 product mix between nitrile and latex.
Kenanga also claims that strong competition could negatively impact margins in the latex segment: "Although we are positive on growth in subsequent quarters driven by re-stocking activities, players like Top Glove and Supermax could continue to be plagued with competitive pressure from low margin latex gloves (accounts for an estimated 50% of product mix) which could offset the gains in the nitrile segment."
Previously, the uptick in demand for nitrile gloves led to longer delivery times of some 45 to 50 days as compared to 30 to 40 days.