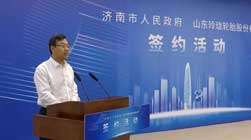 Chinese tyre maker Linglong Tire is to set up a global R&D and technology base in Jinan, Shandong province, having recently signed a cooperation agreement with the local government in Jinan.
Jinan has a long history. It is a famous historical and cultural city and a central city in the south wing of the Bohai Rim. The vigorous development of Jinan has led to major economic indicators in Shandong Province in recent years, with the accumulation of innovation platforms accelerated, the business environment significantly optimised, and the city's influence promoted largely, according to Linglong.
After the establishment of Linglong Tire R&D technology and innovation base in Jinan, it will make full use of Jinan's economic advantages, convenient transportation advantages and talent concentration advantages, to give full play to the company's R&D capabilities and brand influence, absorb domestic and foreign technologies and talents on a larger scale, achieving high-quality development of the company.
 Meanwhile, Linglong will rely on the global-oriented R&D science and innovation base, optimise the gathering of high-end science and innovation resources, stimulate the innovation vitality of market players, promote the upstream and downstream research and development of the relevant industry chain, and promote the development of regional big data as well as intelligent manufacturing, in order to realise mutual benefit between government and enterprise, it said recently.