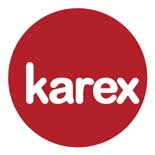 Malaysian condom manufacturer Karex Bhd is planning to build a new facility for rubber-based medical gloves at its Innotex (Thailand) Ltd. (ITL) base in Hatyai. ITL currently manufactures condoms, personal lubricants and other rubber products including catheters but intends to produce at least 2.5 billion gloves/year; they will be made from "nitrile, natural rubber and any other new materials that may be developed by Karex's R&D efforts."
Thenew glove manufacturing business will first have an annual production capacity of up to 500 million gloves from two production lines, while the remainders will be gradually set up over the course of the next 48 months.
The company estimated that the initial production phase will require a capital expenditure of around RM40mil (US$9.59) – it aims to leverage on its expertise and experience from the medical device manufacturing sector tobegin its venture into the manufacture and sale of rubber medical gloves.
"Karex intends to manufacture and sell medical gloves that are typically worn by healthcare professionals and workers in the medical field as a safeguard against infection and exposure to potential viruses, bacteria and other contaminants," a company statement said.
"Experience with regards to obtaining international medical registrations, rubber dipping technology as well as dealing with suppliers and customers from the healthcare industry is expected to enable Karex to quickly establish a foothold within the glove industry."