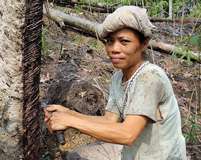 Women play an important role in the whole rubber value chain, from nurturing, harvesting, processing, trading, and manufacturing.
For International Rubber Study Group's (IRSG) 75th Anniversary, the Singaporean market researchers are organising a photo competition to feature women's contributions towards the rubber industry. Themed 'Women For Rubber', the contest is supported by the Singapore Committee for UN Women, with prizes sponsored by Namazie International.
Participants should be ages 18 or over, and can submit up to 2 photos each. Photos are limited to 1MB in size and should be submitted in JPEG format.
The closing date for submission is 31 January 2019, 11:59 pm (GMT+8).
The winners will be announced on 19 March 2019, with the top prize being S$500
More information and terms and conditions can be found here.