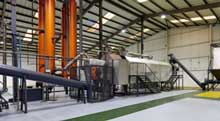 Carlton Forest Group's IRR Manufacturing, responsible for UK's only continuous pyrolysis plant, has stated that repurposed waste rubber could deliver substantial energy savings and ample business opportunities to manufacturers from the production of by-products such as pyrolysis oil and pyrolysis black, which can be further refined to produce high grade engine oil and recovered carbon black (rCB).
Graham White, Group Commercial Director, Carlton Forest Group, explains that end-of-life tyres (ELTs), and any rubber that is left over as a result of the rubber manufacturing process, is hard to recycle. It also poses a real problem to anyone in the industry as environment, waste, recycling, and associated directives begin to become more commonplace.
However, the continuous pyrolysis technology like the IRR can be installed and commissioned for any business as it only requires a separate space to house the plant, and the technology can be specified to the individual needs in terms of capacity and capabilities.
"Hugely ambitious targets have been set by our government and we believe it lies with businesses to explore the opportunities to utilise recycling as power generation. It can assist with achieving sustainability goals of their business and minimise the environmental impact, wherever possible, of their business operations," said Graham.
"Generating energy whilst using hard to recycle waste materials such as end-of-life tyres in the UK, can only deliver a positive impact and we look forward to an ongoing programme of education across the tyre industry."
Graham adds that IRR's pyrolysis systems can process one tonne of ELTs each hour to deliver high-grade pyrolysis oil which then produces 2 megawatts (MW) of electricity and 5 MW of recoverable heat. It will provide rubber manufacturers with the opportunity to not only dispose of their waste rubber (or any polymers) responsibly, but to also integrate with business plans to achieve sustainability targets due to its ability to generate energy, useful by-product consumables and support day-to-day business operations through heating and chilling applications.