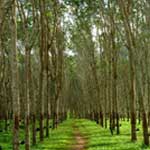 Indian rubber-producing state Tripura is seeking to increase production with a new "rubber clone" suited to the agro-climatic conditions of northeastern India. The engineered variety of rubber, produced by the Rubber Research Institute of India (RRII), will soon be commercially introduced in the state after a successful series of testing which lasted for about 20 years.
The state is the second largest rubber producer in India after Kerala. However, it still produces less than 1,200 kg per hectare plantation area against the national average of 1,500 kg – Tripura only produced some 12% of a total 650,000 tonnes of rubber in 2018. As the national annual demand is 1.2 million tonnes in the domestic rubber industry, the RRII's clone variety is expected to boost Tripura's cultivation and production of the country's "white gold".
The Rubber Board of India Executive Director Dr. KN Raghavan said Tripura's agro-climatic conditions has the potential to increase production to 100,000 kg annually, but lacks properly trained tappers and rain-guarding of rubber plants. The state records monsoon showers for most of the year and hence, there is possibility of dilution/contamination of the liquid latex.
Dr. Raghavan mused: "Too many tapping days are lost due to lack of rain guarding – at least 20% of tapping days are lost. The rubber trees should be guarded from the rains by some sort of cover so that the tapping can be continued underneath."
He added that the Rubber Board has sent four trainers to northeastern India this year to educate tappers in new techniques and quality tapping. The soon-to-be "Latex Harvest Technicians" will also have new suits, knee-long boots, and helmets fitted with lights to facilitate rubber tapping in the dark. The Indian officials hope the initiative, and a higher pay, would spur tappers to invest more time and energy into the profession.