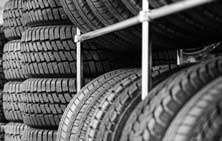 The recent import restrictions on certain pneumatic tyres in India has contributed to increased shares of tyre manufacturing companies, with some tyre stocks up by 6%. According to the Directorate General of Foreign Trade (DGFT), new pneumatic tyres used in motor cars and the like will no longer be listed under the "free" category and will require a licence or permission from the DGFT prior to imports. The import restriction is said to improve the revenue of the tyre companies such as Apollo Tyres Ltd. and Ceat Ltd. while revenues of the domestic tyre sector is expected to expand by about INR 2000 crore (USD 303 million).
Analysts at JM Financial Institutional Securities Ltd., a trading member of the Bombay Stock Exchange Ltd. (BSE), state that the new import restrictions could limit tyre imports in the coming days and might further impact the future availability of imported tyres.
Meanwhile, a dealer-check by one of India's largest retail broking houses, Reliance Securities Ltd., has confirmed that during the lockdown, the volumes in the tyre sector dipped considerablydue to decreased demand. Analysts revealed, "April' 20 volumes were impacted by 90%, while May 20 would see volumes fall 50-60%; overall industry volumes are expected to fall by double-digits in FY21E."
In addition to all this, poor auto sales during the lockdown also greatly affected tyre companies. However, companies in the replacement market are expected withstand the slump and facilitate a rebound in the auto sector.