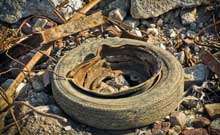 Disposing of tyres at a profit is presenting a problem – in the past month three separate tyre dumping incidents in the UK bring into question tyre collection processes across the UK.
In England, the Environment Agency is investigating a former go-karting site where large quantities of waste tyres were reported to have been stored. "Our officers are investigating the operators of a site on Spring Mill Street, Bradford, following reports to our Incident Hotline about the suspected illegal storage of waste tyres," said an agency spokesperson.
"There are strict rules governing the storage of waste tyres, which are designed to help prevent fires and to protect people and the environment. We have alerted our colleagues at West Yorkshire Fire & Rescue Service and are now seeking to determine if an offence has been committed so that appropriate enforcement action may be taken."
Go Kart sites in the UK can only store up to 40 tonnes of waste tyres under the Exemption scheme.
Further north, Police Scotland and Glasgow City Council have met with the Scottish Environment Protection Agency (SEPA) for talks on how to remove a recent tyre dump at Garscadden Road safely amid fears it could cause an environmental disaster if set alight.
"A multi-agency group, including representatives from SEPA, Police Scotland, Glasgow City Council and others will discuss this matter and specialist SEPA officers will be deployed to the area."
Police Scotland have also urged witnesses who may have spotted trucks or individuals dumping rubbish on the site to get in touch as the force launched an investigation into the situation.
Meanwhile, in Northern Ireland (NI), the NI Environment Agency is investigating up to 100 tonnes of tyres left on farmland near Pomeroy, County Tyrone.According to the landowner, a relative had planned to build a go-kart track but was unreachable after more tyres arrived than expected. The landowner was not sure where the tyres had come from.