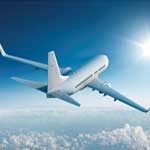 German Huebner Group, which specialises in gangways and door sealing systems for buses and railway vehicles, is to supply silicone-based paneling elements for the interiors of the new A350 family of airplanes being built by European manufacturer Airbus.
The deal was officiated at International Paris Air Show in June 2019 and the order will be handled by the automotive/industrial supplier's French subsidiary Heurteaux. Heurteaux has been part of the Huebner Group for the past six years and will deliver the required silicone products to the Airbus supplier Diehl Aviation.
Tim Konze, Account Manager for Huebner Material Solutions, has explained that its products have been developed through "a lengthy testing process" – it was crucial to combine the exacting physical and chemical requirements generally demanded for aircraft parts with the requirements for fire resistance that apply for its interior components.
While Huebner has over 40 years' worth of experience in airport technology, General Manager Ingolf Cedra said the company wants to focus on theirMaterial Solutions business segment. The company supplies international airports, including Germany's Frankfurt and Munich airports, with folding canopies for passenger boarding bridges.
"The Huebner's Material Solutions unit has so far provided seals for helicopter doors/windows and elastomer components for airplane doors, so we are very pleased to supply interior components for the AirbusA350."