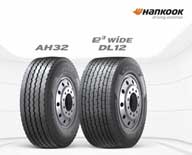 There are two new additions to the truck/bus radial (TBR) tyre segment as Hankook Tire America (Hankook) has launched the AH32 all-position and e3 WiDE DL12 drive-axle radials. Both tyres are produced through Hankook's new "Smart + Technology" manufacturing process which adds key performance indicators across the TBR products, such as improved braking, multi-surface performance, rolling resistance and safety. Rob Williams, Vice President of TBR sales at Hankook, said the new tyres are also "SmartWay" verified for reduced rolling resistance.
Hankook's first tyre, the AH32, is an all-position, all-season tyre developed for durability, retreadability and safety – it incorporates the tyre manufacturer's Innovation Mixing System, which strengthens the bonding force between compound materials; and includes a multi-purpose performance tread pattern that combines differing zig-zag groove designs to protect against uneven wear, chips, cuts and tearing. The AH32 will be available in two sizes initially—385/65R22.5 18PR and 425/65R22.5 20PR.
Hankook's second tyre, the e3 WiDE DL12, features Spiral-Coil Technology for its footprint and casing, which correlates to better wear and performance. The e3 WiDE DL12 is also said to provide better traction capabilities from a semi-open shoulder design and three-dimensional siping technology. In long-haul applications, Hankook claims that using wide-base single tyres such as the DL12 in place of duals offers weight savings of up to 400 pounds and a 33% reduction in rolling resistance. At present this variant is available in two sizes—385/65R22.5 18PR and 425/65R22.5 20PR—with more to be offered later in the year.